Heaven to Hand is an art and craft studio that began in 1989. Our goal is to create beautiful artwork that will give glory to God.   We believe that a simple sign or piece of art, with a great message, can encourage, give hope, and build faith in the hearts of those who read them.   It's a simple witness a person can put in their home and touch the hearts of those around them for the glory of God.  From heaven to our hands to you!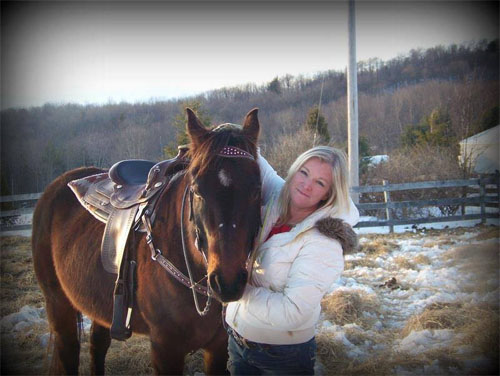 I began painting as a child and had a lot of encouragement from an artistic family. My mom purchased art kits and art supplies for my sisters and myself, getting us on a road to creativity.   As I grew up, others said that I should get a reality check and get a real job.  But God had a different plan.  We moved to Hershey in 1988 and began a journey that has been amazing!
I was once told by a very special Christian lady, that God was going to use my hands, and once we moved to Hershey, that plan came to life. We started making a few small items, painted things and fiber arts as well as wood.  I was inspired by the Amish and the countryside of PA . I am an animal lover as well.  Having grown up in the country, and living in the city for a while, I was back home again!   We went to a few small craft shows, and with encouragement from our customers, we found that there was a huge need for faith based artwork.  So we started creating work that would bless the hearts of our customers.  My husband quit his job after 2 years to work full time in the arts and crafts business.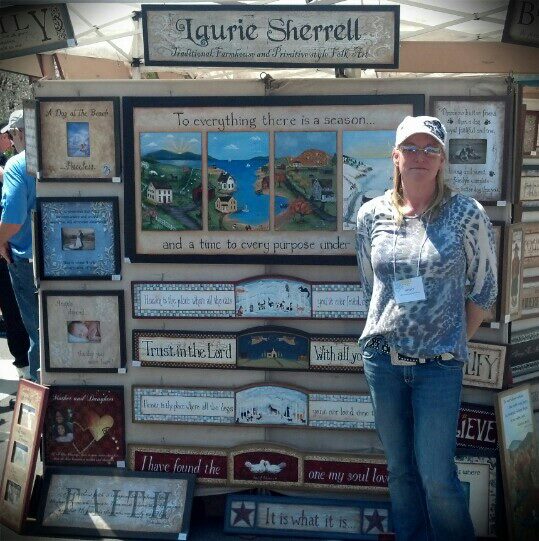 At that time, it was hard to find christian themed designs at art events.  So it became our ministry. The goal was to help Believers get the message of Christ in their home or give as gifts as a witness to others.  It was also amazing because we met so many people who were unfamiliar with the Bible.  One customer was surprised by the fact that the "Love is Patient" verse was actually from the Bible!  We've also had the opportunity to bring His message to the lost, be an encouragement to other artisans, and have our own faith built up when things were difficult.  I can honestly say, that the best memories from shows, for me, are the great customers who shared their faith and how God had moved in their lives. We will never forget those who prayed with us and those we had the honor or praying for.

In 1999 we moved to northern Pennsylvania and purchased a small farm, where we could expand our creativity.  God gave us a peaceful place where we could create for Him.  My daughter Caitlin and her husband CJ worked with us in expanding to even more events. We loved to go the the events, but whenever we came home, we could have peace and enjoy our surroundings in the country.  A time to just thank God for all he has done!
In 2012, a tragedy struck when my first husband Kevin passed away unexpectedly. We had been together for 33 years.  It was a very difficult time but by God's grace, I was able to continue creating new work.  It has helped me to lean more on the Lord for all things, and that He alone is our source.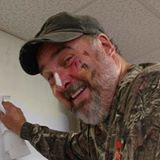 I remarried in 2014, to another man with an amazing talent.  God didn't forget his promise to me, to use my hands.  He gave me a new partner in Craig. Craig, a disabled veteran, creates beautiful designs in wood, each one is unique and individual.  He has perfected his talent with wood burned fractals, done with electricity.  He uses resins and epoxy in his designs as well, to create his works of art.  You will see mainly samples of his work here on our site, as each one is an individual. NO two alike!

The Lord also blessed me with a second career, here at Kingdom, Inc., where I create beautiful websites. I create sites like this one, and mainly for churches, to help get the gospel of Christ out to as many people as possible! I really enjoy working with churches and other ministries to get their message out to the world with beautiful artwork and a great presentation.
In 2021 I finally realized my dream in moving to Tennessee!  I am thrilled to finally be here in East Tennessee!  There's nothing like going to the grocery store and have the grocery bagger tell you about how Jesus changed his life!   People are warm and friendly.  I am so excited to be home again! 
Our Goal: With God blessing the work of our hands, we hope to share the message of Christ to as many people as possible. He is coming back soon!    From heaven to our hands to you!